16 June 2014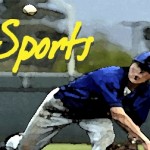 Emeralds Lose to Open Season
The Eugene Emeralds began the 2014 season with three losses on the road in Spokane. The Ems opened Friday with a 7-3 to the Indians; falling again Saturday 5-3; then yesterday 5-2. Game four of the five game series is tonight; they'll wrap up the road trip tomorrow.
The Emeralds open at home Wednesday against Boise.
 Sandblasters Open Season at Home
The Three Rivers Sandblasters begin their season at home this afternoon with two games against the Willamette Valley Titans. Game one of the double-header at Jiggs Dodson field is set for two… the pregame show on Coast Radio Sports is at 1:45.
The Sandblasters are coached this year by Ryan Fobert, a former first team all-Northwest Conference catcher from George Fox University.
All State Softball Honors Handed Out
Two Siuslaw Viking Softballers have been recognized at the state level for their play on the diamond this season. Ashlee Cole and outfielder Haylee Richards received honorable mention in the 4A All-State Softball listings. Sweet Home's Katie Virtue was the player of the year; Nicole Christianson, who guided McLoughlin to the state crown, was Coach of the Year.