Our Town
This Month on our December Broadcast of Coast Radio's Our Town George Henry visits with the new CAO of Peace Harbor Hospital, Jason Hawkins, Local fitness trainer and new Author Tracy Markley, Ron Green from OPB, members of the Oregon Coast Humane Society, and more…
Click Here to listen to the individual interviews if you missed any of the broadcasts on KCST or KCFM 
PeaceHealth Doc Talk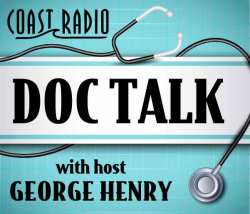 Peace Health/Peace Harbor Medical Center's Doc Talk is back on Coast Radio.  Each month Host George Henry will talk to Doctors and Medical Professionals about the latest in medicine and what is new at Peace Harbor Medical Center in Florence.  It airs the 3rd Thursday of each month at 10 A.M. on KCFM 104.1/103.1 Mapleton/1250 AM  and then again on the 3rd Sunday on KCST-FM 106.9  Just after ABC News at Noon.  And if you miss it you can listen to the podcast right here:
Athlete of the Week
Richard Huff
The Sports Club, The Siuslaw New and Coast Radio congratulate Siuslaw Viking senior grappler Richard Huff as this week's Athlete of the Week. The 126 pounder finished in third place in this past weekend's North Bend Classic winning 5 of his 6 matches over the weekend and is now 12-3. Huff is the number 2 seed in his weight class.
Honorable Mention goes to junior Siuslaw Viking Lady Basketball player Madison Reynolds. Madison was named to the All-Tournament Team this past weekend for her offensive and defensive rebounding skills with 29 total rebounds in three tournament games at the Les Schwab Eagle Booster Classic.
Viking Sports Talk


Sponsored by Skyline Roofing and Continuous Gutters and T. R. Hunter Real Estate