Taking a look at Coast Radio Sports…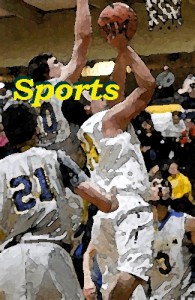 Athlete of the Week
Mapleton Basketball Standout Chelsea Simington is Coast Radio sports' Athlete of the week.  The Sailor Senior had a season high 22 points last week in a 52-14 win over Mohawk.  Honorable Mention is given to Mapleton's Jake Dearman who had an aggressive defensive game and scored 11 points in the boys' victory over Mohawk.
The Mapleton Sailors will be in Blue River this evening for a Mountain West League Boys' Basketball playoff.  Tipoff is at seven.  With a win, the boys would face the Cougars in Crow at eight pm Thursday.
College Baseball
Beavers Sweep Husker Classic
Michael Conforto drove in three runs and former Siuslaw standout Jake Thompson tossed seven scoreless innings in his college debut to pace the 2nd ranked Oregon State Beaver Baseball team to a 7-0 win over Pacific yesterday in Tempe, Arizona.  The win left the Beavers with a 4-and-oh record coming off the opening weekend at the Husker Classic.
Thompson's debut saw the right-hander strike out three while allowing three hits and two walks.  The freshman retired ten of his last 11 batters faced after allowing a single and a walk to open the fourth inning.  He got the win and is one-and-oh.
Ducks win fourth straight
Oregon broke open a close game with six runs in the eighth inning against Hawai'i for a ten-two victory.  It was George Horton's 900th career victory as a head coach.  It wrapped up a 4-and-oh start for the Ducks.