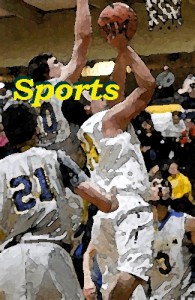 Pac 12 Basketball
Number two Arizona struggled with their offense last night, but the defense stepped up at the end to stop Oregon 67-65 in Tucson.  The Wildcats were playing without injured forward Brandon Ashley for the first time and had a rough shooting night.  Oregon held its composure in one of college basketball's toughest road arenas, keeping the 'Cats at bay well into the second half.
In Tempe, Arizona State held off Oregon State in overtime, 86-82.  Roberto Nelson had 24 of his 26 points in the second half for the Beavers who came from behind to tie it at the end of regulation.
On the schedule for this weekend, the Ducks will be in Tempe tomorrow afternoon against Arizona State at two… the pregame show on KCST is at 1:30.  The Beavers will face Arizona in Tucson Sunday at four… the pregame show on KCFM is at 3:30.
Prep Sports
The prep sports schedules are in flux today because of the weather… No Siuslaw or Mapleton basketball this evening.  Games will be rescheduled.  Last night's home wrestling meet for the Vikings will also be rescheduled.