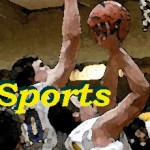 Taking a look at Coast Radio Sports…
Travis Wear's putback with 5.3 seconds remaining gave the UCLA Bruins a 70-68 victory over the slumping Oregon Ducks last night at Matthew Knight Arena.  Joseph Young had 25 points for the Ducks who have now lost six of their last seven games following a 13-game winning streak to start the season.  Things were every bit as close in Corvallis as Roberto Nelson's go-ahead basket with 25-seconds remaining in overtime lifted Oregon State past USC 76-75.  Nelson wound up with 24 points.  The Trojans' Pe'Shon Howard had a chance to tie it with 9-tenths of a second remaining, but missed a free throw; Oregon State rebounded and it was over.
On the court this weekend, Oregon will host USC tomorrow at five; the pregame show on KCST is at 4:30.  The Beavers will host UCLA Sunday morning at 11:30… the pregame show on KCFM is at 11:00
On the prep court tonight…
The Siuslaw Vikings are on the road for two games against the South Umpqua Lancers.  The girls tip off at six; the boys right after.  Pregame on KCST is at 5:45.  The Mapleton Sailors will be at Lowell against the Devils; Reedsport will host Myrtle Point.
Prep Wrestling
Viking grapplers are on the mats in Newport tomorrow for a pair of non-league dual meets… one against the Cubs; the other against Santiam Christian.