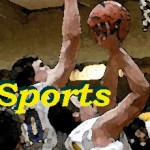 Sailors Split With Wolverines
Mapleton's Tucker Ford scored 24 points; Chris Free added 14; and Justin Schaaf (shoff) added 13 and the Mapleton Sailors downed the Alsea Wolverines 68-54 in a boys Mountain West League matchup last night.  The Lady Wolverines downed the Lady Sailors 45-27 in the girls' portion of the evening.
Reedsport Braves Swept
On the court in Reedsport, the Glide Wildcats swept the Braves… winning the girls game 34-25; then taking the boys game 46-35.
Siuslaw had the night off.