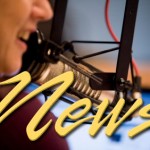 27 January 2014
Talk of bridge, guns and pot return when Legislature convenes
A plan to replace the Interstate 5 Bridge over the Columbia River between Portland and Vancouver will be only one of several key issues facing lawmakers when a five-week legislative session begins one week from today.
Among the topics already gaining attention will be gun control; clean fuels; Native American school mascots; and genetically modified crops.
There will be some new topics this session: things like legalization of marijuana; money for cancer research facilities and attempts to avoid a repeat of the Cover Oregon debacle.
The budget will be trimmed a bit due to lower revenue and higher costs… although massive cuts aren't expected.
Smokey Weekend in Western Oregon
Firefighters with the Oregon Department of Forestry, several other agencies, and landowners in Western Oregon were kept busy over the weekend.
Unseasonably warm and dry weather caused the 'rekindle' of several large controlled burns that were lit last fall.  Three complexes of large blazes drew the most attention: one in the Cascades east of Salem on the North Santiam; another near Astoria; and the 300-acre Bone Mountain Complex near Remote in Coos and Douglas Counties.
Several other blazes in and around Coos Bay filled the air with smoke over the weekend.
Quake Danger High
The 314th anniversary of the "big one" came and went yesterday… it was on January 26th, 1700 that a 9-point-oh magnitude "megathrust" earthquake struck along the Northern California, Oregon and Washington Coast.
Althea Rizzo with the Oregon Office of Emergency Management says scientists believe Oregon is within a "window of time where another massive earthquake could occur".
She says the Cascadia Subduction Zone is recognized as one of the worlds' most dangerous faults and poses a significant earthquake hazard.
Scientific evidence, oral history and even Japanese tsunami records helped identify that 1700 quake as being of devastating proportions… something scientists say could be repeated at any time.
Relay For Life
Live music by Marty Adams, food and a fund-raising silent auction will be some of the activities this evening during the annual kick-off party for the 2014 Florence Relay for Life.
The keynote of the evening will be Dr. Joseph Fiorello of the Willamette Valley Cancer Institute.
Cancer survivors, caregivers, friends and anyone else interested in learning more about the annual fund raiser are welcome to attend.. it begins at six this evening at Best Western Pier Point Inn.
The 2014 Relay for Life will be August 8th and 9th at Miller Park.