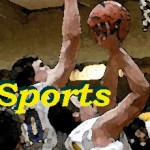 Far West League Basketball
The Siuslaw Vikings stayed with the top team in the state for the first 12 minutes last night, but the Brookings-Harbor Bruins pulled away for a convincing 61-35 Far West Boys basketball victory last night in Florence.
The number one ranked Bruins girls also came away with a win, 54-40, but the Lady Vikings kept things within reach the entire way.  Ashlee Cole had 20 points and nine rebounds; Mikaela Siegel had nine points and 16 rebounds.
Nick Lutz Invitational
The game was played last night instead of this evening to give volunteers a chance to prepare the gym for tomorrow's Nick Lutz Wrestling Invitational at Siuslaw.  Teams from 18 schools will compete beginning at nine tomorrow morning.  Siuslaw coach Neil Wartnick says championship matches are expected to begin around five o'clock.
Back to prep hoops…
On the rest of the prep schedule this evening, Reedsport will host the Myrtle Point Bobcats.  Mapleton will be on the road where they'll take on the Siletz Valley Warriors… the boys tip off at 5:30, the girls immediately following.  Both games will air on Coast Radio Sports beginning at 5:15.
Pac-12 Basketball – Civil War Weekend
It's Men's Basketball Civil War Weekend… the Oregon Ducks and Oregon State Beavers will meet Sunday evening in Corvallis at five.  Both teams are trying to shake off the funk of one-and-three conference records.  Airtime on both KCST and KCFM will be at 4:30.