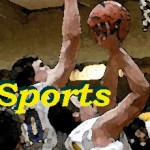 Prep basketball scores from last night…
For the boys:  Mapleton downed Mohawk 45 – 31 in Marcola… in the girls game it was 44-9 with the Lady Sailors coming out on top.
On the court tonight…
The number one ranked Brookings-Harbor Bruins… both boys and girls…  will be in town this evening to face the Siuslaw Vikings.
Both games will air on Coast Radio Sports with airtime at 5:45… the girls are slated to tip off at six… the boys immediately following.
Nick Lutz Invitational
Preparations for this weekend's Nick Lutz Wrestling Invitational are the reason for the games tonight.  There will be 18 schools represented on the mats with wrestling beginning at 9:00 Saturday morning.  The finals are expected to begin around four.