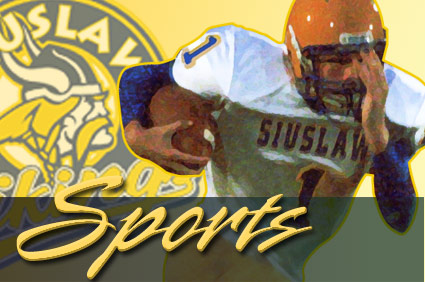 The Gladstone defense stymied the Siuslaw Vikings Friday night, jumping out to a 19-nothing halftime lead before handing the Vikings a 29-9 loss in the OSAA 4A football playoffs.  The Vikings mounted a rally in the third quarter, cutting the difference to 19-9 before the Gladiators responded.
The loss ended the Vikings' season with an 8-2 record.  The Gladiators are also 8-and-2.  They'll go up against number one seeded Philomath this weekend.
North Bend is the only remaining Far West League team in the playoffs… they downed Cascade 35-7 and will face Scappoose this weekend.
The season ended Saturday afternoon in Heppner for the Reedsport Braves as the Mustangs came out on top 48-8 in the first round of the 2A football playoffs.  The Braves ended their season with a 7-and-3 overall record.
No college football over the weekend, but action did get underway on the basketball court.
The Oregon Men beat Georgetown 82-75 in a season opener at a U.S. Army base in South Korea.  Joseph Young had 24 points and five rebounds for the Ducks.  Young was 12 of 12 at the free throw line.  The game was played in front of hundreds of soldiers at Camp Humphreys.
Coppin State picked up their first ever win over a Pac-12 team last night in Corvallis.  The Eagles led by as many as 13 points and held off the Oregon State Beavers 78-73.