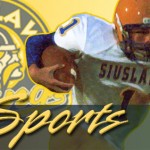 Siuslaw football standout Preston Mitchell is Coast Radio Sports' Athlete of the Week.  The sophomore backup quarterback completed 13 of 15 passes for 225 yards and four touchdowns, plus carried the ball ten times for 67 yards and one more touchdown to lead the Vikings to victory over Sweet Home last week.
Honorable Mention is given to Freshman distance runner Celie Mans who finished third individually at the OSAA State 4A Cross Country meet in 19:01.
2A Playoffs
The Reedsport Braves will open up the OSAA 2A Volleyball tournament Friday morning in Redmond against Delphian.  The Braves downed Regis 3-nothing over the weekend at home to advance.
Number 14 seed Reedsport will face number three Heppner Saturday afternoon in Heppner in the opening round of the 2A football playoffs.  The Braves wrapped up the regular season Friday night with a 32-18 win over Myrtle Point.