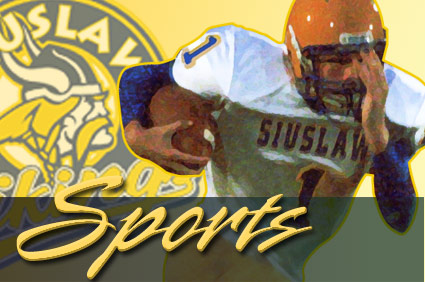 Taking a look at Coast Radio Sports…
The Siuslaw Vikings spotted the Sutherlin Bulldogs the first set, then charged back for three straight wins last night to capture second place in a Far West League tie-breaker in Reedsport.  Elyssa Rose and Ashlee Cole had ten kills each for Siuslaw and the Vikings served at a 97% success ratio.  They'll host an OSAA "play-in" match early next week.
Jack of All Trades; Master of Many
Mapleton football standout Brody Ford is Coast Radio Sports' Athlete of the Week.  The wide receiver/quarterback combination completed 11 of 14 passes for 290 yards and four touchdowns; carried the ball 23 times for 154 yards and four more touchdowns; plus had four catches for 92 yards; accumulating 536 all-purpose yards in the Sailor's 68-44 football victory last week over Mohawk.
Honorable Mention goes to Mapleton wide receiver Justin Schaff who had 13 catches for 303 yards and four touchdowns in that same victory.