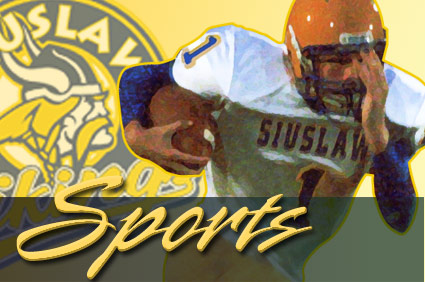 The Siuslaw Vikings had the night off, but the Marshfield Pirates downed Sutherlin in four games last night to claim the Far West Volleyball title.  The Bulldogs and the Vikings will play off Monday Night at six pm in Reedsport to determine who will have the 2nd place slot in the OSAA playoffs that begin October 29th.
In two other Far West matches last night, North Bend beat Brookings; South Umpqua downed Douglas.
The Reedsport Braves edged Bandon 3-2 last night in a non-league volleyball matchup.
The Siuslaw Vikings are set to compete tomorrow in the Marshfield Volleyball Invitational.
On the gridiron… the #7 ranked Siuslaw Vikings are off this evening.  Brookings will be at North Bend; South Umpqua at Douglas and Sutherlin at Marshfield.
The Mapleton Sailors are on the road to Marcola today where they'll face the Mohawk Indians this evening.  Reedsport will host Bandon.
In the Pac-12 it's Number 2 Oregon at home tomorrow night against Washington State at 7:00…. The pregame show on 106.9 KCST will be at 5:30.  Oregon State is in Berkeley where they'll face the Cal Bears, also at 7:30.  The pregame show on KCFM is at 6:30.