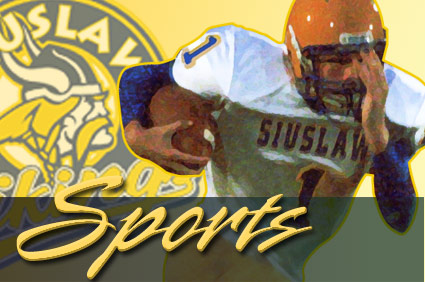 Taking a look at Coast Radio Sports…
The Siuslaw Vikings had a kill-ratio of more than 50-percent last night, downing the Douglas Trojans in three straight sets to take sole possession of first place in the Far West Volleyball race.  The Viks stumbled early, falling behind 16-20 in the first game before coming back with a huge effort by Brittany Long  for a 25-23 win.  They easily swept the next two 25-6 and 25-14.
Ashlee Cole had 18 kills and Elyssa Rose added eight more for the Vikings who had 39 kills in all on the night.  Kylie Brandt was a perfect 13-of-13 from the service line in the match and, according to coach Amy Peterson, had "a nice run to shift momentum" in the third game.  She was also the leader in serve-receive passes with five.
Elsewhere around the Far West… Marshfield had the night off and slipped a half game behind Siuslaw.   Sutherlin swept Brookings in three to move into a tie for second; North Bend went 3-0 against South Umpqua.
In the Mountain West… Mapleton swept Alsea in three games last night.  The sailors are back on the court tonight at home against Lowell.