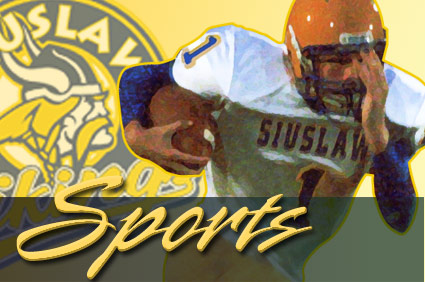 Prep Football
Long sustained drives ending in short runs or passes; Short drives ending in long runs; A kickoff return for a touchdown; a fumble returned for a touchdown and a blocked punt for a score.  Those are the ways that the Siuslaw Vikings found to score in a 68-28 shellacking of the Douglas Trojans at home Friday night.
Around the Far West League, North Bend had their own paintbrushes out, downing Marshfield 49-nothing.  South Umpqua rolled over Sutherlin 50-14.  Brookings-Harbor remains winless on the season… they fell to Clatskanie 53-22 Saturday afternoon in Pleasant Hill.
In the 2A ranks, Reedsport improved to a 4-and-1 record with a 26-18 win over Coquille.
And in the Mountain West… Mapleton fell to one-and-two in league play, dropping a home matchup against Yoncalla 80 – 26.
On the Cross Country course…
The Viking boys had three of the top five finishers at the Marriman Invitational in Philomath, but LaSalle had fewer team points to take home the championship trophy.  Siuslaw was in second with Mack Marbas posting his fastest time this season for the individual win at 15:56.05.  Mitchell Butler was second, Seth Campbell fifth.
For the girls, Molalla won the team title, followed by Siuslaw in second place.  The Lady Viks were paced by Celie Mans in 18:56.81.  Katy Wells was in 15th, followed by Courtney King in 16th.
On the college gridiron…
Colorado held with the #2 Ducks for most of the first quarter, but eventually the up-tempo pace and Oregon's speed caught up and passed them.  The Ducks came out on top 57-16 in Boulder, Colorado.  Quarterback Marcus Mariota threw five touchdown passes and ran for two more.  Oregon will be in Seattle against Washington Saturday… the Beavers had the weekend off; they'll be in the Palouse against Washington State.
Coming up on the court tonight…
Far West leading Marshfield will be at Siuslaw High School tonight.  The Vikings are hoping to avenge an earlier season loss to the Pirates.  In an effort to encourage a full house they'll be collecting canned food for Florence Food Share… two cans in exchange for two dollars off the regular $5 admission price.  The JV match begins at five… Varsity at 6.