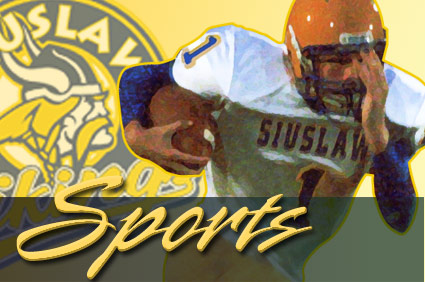 They split the first two sets, but the Siuslaw Vikings claimed the final two to down the South Umpqua Lancers 3-1 last night in a Far West Volleyball contest in Myrtle Creek.  Coach Amy Peterson said Courtney Taylor had an outstanding night with eight kills for the Vikings.
In other Far West matchups last night Marshfield downed North Bend in three; Douglas got by Brookings Harbor in five.  Sutherlin had the night off.
Those results keep Siuslaw and Marshfield tied at the top of the league standings with matching 7-1 records.  Sutherlin, at 5-2 is in third.  The Vikings will face Sutherlin on the Road tomorrow night.
In Reedsport the Braves won the first two sets, then gave up two close games to Bandon, before downing the Tigers 15-12 in the fifth and deciding game.  Reedsport has now won eight of their last nine matches.
Mapleton was off the court last night.  They'll be at home this evening against Eddyville.