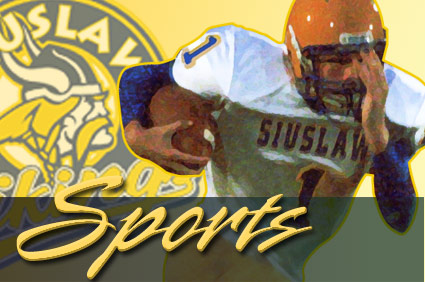 Prep Football
Joseph Dotson, Andrew Tupua, and Maverick Michael each rushed for two touchdowns; Christian Jakobsen added one of his own; and the Siuslaw Vikings keel-hauled the Marshfield Pirates 51-6 Friday night in Florence.  The Douglas Trojans tamed the Brookings-Harbor Bruins 43-13 to remain undefeated and the North Bend Bulldogs downed the Sutherlin Bulldogs 44-7.  With three league wins the Vikings are alone atop the Far West League Standings.  North Bend and Douglas are tied for second with matching 2-0 records.
In the 2A special district, Reedsport downed Riddle 40 – 21 Friday night.  In the Mountain West it was Triangle Lake over Mapleton 62 -12.
Woahink Invitational Cancelled Due To Winds
On the Cross Country Course… It wasn't the rain, but the wind that prompted cancellation of Saturday's scheduled Woahink Invitational.  Forecasted winds of up to 70 miles an hour prompted Siuslaw School District officials to cancel the meet Friday afternoon out of concerns for safety.  It will not be rescheduled.
Pac 12 Football
On the college gridiron… Oregon State's Sean Mannion set a school record with six touchdown passes and is the first quarterback in the nation to reach 2,000 yards passing.  That effort paced the Beavers to a 44-17 rout of Colorado Saturday afternoon in Corvallis.
In Eugene, De'Anthony Thomas injured his ankle on the opening kickoff return and sat out the rest of the game, but it turns out the Number 2 Ducks were ok without him.  They swamped the Cal Bears 55 – 16 Saturday night.  The turf was slick from a driving rain and the junior running back slipped, injuring himself.  Thomas was frank about his situation even though he didn't have an exact diagnosis… as for next week's game at Colorado, Thomas would only say, "we'll see".