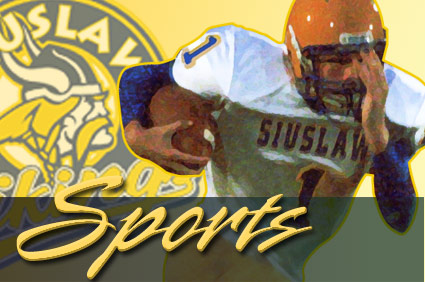 Prep Football
J.B. Dodson had two interceptions, and the Siuslaw Vikings overcame a 7-7 halftime tie to edge the South Umpqua Lancers 28-21 in both teams' Far West League Opener Friday night in Florence.  In other Far West games, Sutherlin outran Brookings-Harbor 44-37 and Douglas beat Marshfield 38-16.  Cottage Grove edged North bend 39-38, handing the Bulldogs a non-league loss.
In Alsea Friday night, the Mapleton Sailors downed the Wolverines 38 – 34; In Reedsport, the Braves beat the Waldport Irish 42-20.
Cross Country
Mack Marbas and Mitchell Butler paced the Viking boys to another Cross Country team victory Saturday at the Highland Tree Farm in Molalla.  Marbas and Butler were first and second; Seth Campbell 6th.  The girls tied with Lebanon with 101 points and finished fourth overall.  Celie Mans was 2nd individually; Katelyn Wells and Courtney King 9th and 10th.
Turning to College Football…
At first it sounded as if Tennessee was going to give the #2 Ducks a close game, but by midway through the first quarter Oregon had kicked it into gear and cruised to a 59-14 victory over the Volunteers.  Marcus Mariota threw for a career-high 456 yards and four touchdowns;  Freshman Johnny Mundt had five catches for 121 yards and two TDs.
In Salt Lake, Oregon State, gave up a healthy 3rd quarter lead, then tied it in regulation and came back for an exciting 51-48 overtime victory over Utah Saturday night.  Sean Mannion completed 27 of 44 passes for 443 yards and five touchdowns.  Brandin Cooks had nine catches for 210 yards and three scores.  The Beavers lost running back Storm Woods to a concussion.  He'll be out this weekend against San Diego State, but could return in time for Colorado September 28th.