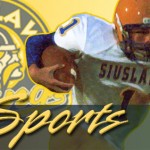 Sports Club Athlete of the Week
Siuslaw running back Christian Jakobsen is Coast Radio Sports' Athlete of the Week.  The junior carried the ball 14 times for 144 yard… including long runs of 50 and 44 yards… in Siuslaw's non-league victory over the Illinois Valley Cougars.
Honorable Mention is given to receiver and defensive back Brad Snow.  He caught three balls Friday night.  Two of them passes… one for 50 yards.  The third was a 2nd quarter interception that set up an eventual Viking score.
Prep Volleyball
On the court… the Mapleton Sailors remain undefeated in Mountain West League play.  They downed Eddyville in four games last night for their third straight win.
Siuslaw volleyball is at home this evening against Sutherlin at six.