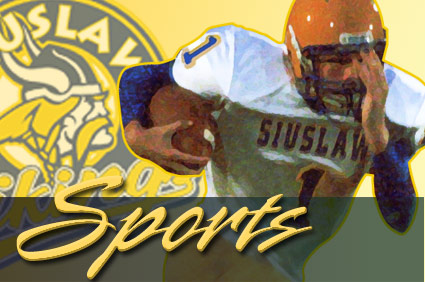 Viking Volleyball Wins in the Dunes
Siuslaw claimed the Dune Classic Volleyball Tournament title for the third straight hear over the weekend in Reedsport, but the host Braves weren't willing to just lay down and let them take it.  The two teams traded 25-22 victories in the first two games of the championship match with the Vikings coming out on top 18-16 in the final.
On the prep gridiron…
Siuslaw's Brad Snow and Keoni Castro each had interceptions and the Vikings held off the Illinois Valley Cougars for a 28-13 non-league victory in Cave Junction.  Christian Jakobsen carried the ball 14 times for 140 yards; Joe Dotson had a pair of one-yard touchdown runs.
In Mapleton, the Sailors ran over Portland Lutheran Friday night 40-8; Neah-Kah-Nie nipped the Braves in Reedsport 32-20.
College Football
De'Anthony Thomas ran for 124 yards and three touchdowns as second-ranked Oregon blasted Virginia 59-10 in the Ducks' first ever appearance in Charlottesville.  Oregon finished with 557 yards and did all their scoring while possessing the ball less than 22 minutes.  The Ducks are at home Saturday against Tennessee.
Sean Mannion threw for 372 yards and four touchdowns and Oregon State rebounded from a stunning loss in their season opener with a 33-14 victory over Hawai'i Saturday evening in Corvallis.  Brandin Cooks had seven catches for 92 yards and two scores.  Oregon State will be in Salt Lake City Saturday night where they'll Face Utah.