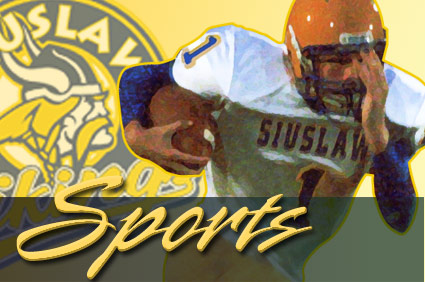 Prep Athlete of the Week
Siuslaw football standout Andrew Tupua is Coast Radio Sports' Athlete of the Week.  The Viking sophomore averaged 13 yards per carry in Friday night's season opening victory over Scio. Tupua carried the ball seven times for 92 yards and one touchdown that evening.  His longest was a 46 yard dash in the 3rd quarter.
Honorable mention is given to senior defensive back and wide receiver Samuel Johnson who had several key tackles and caught three passes for 51 yards, including a 27 yard touchdown in the first quarter for the first Viking score of the season.
Northwest Leage Baseball
Northwest League baseball wrapped up last night with a loss for the Eugene Emeralds when a three-run 9th inning rally was cut short in Keizer.  The Volcanoes came out on top 6-4.
On the Court
Prep volleyball gets underway this afternoon at Siuslaw High School for the Vikings when the Brookings-Harbor Bruins come calling.  Varsity gets underway an hour earlier than usual… at five pm.