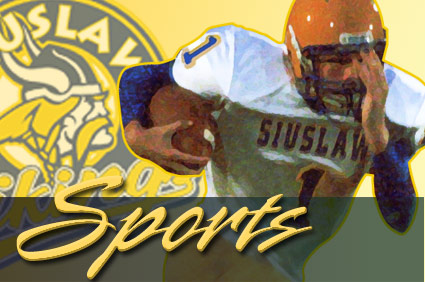 Prep Football Opener
Siuslaw trailed in the first quarter, but went ahead in the 2nd and eventually cruised to a 39-16 non-league win over the Scio Loggers Friday night to open the prep football season.  Andrew Tupua had seven carries for 92 yards and one touchdown in the effort.
Ducks Down Colonels
It was more of a warm up than a real game.  The #3 Oregon Ducks posted a 66-3 win over the Nicholls Colonels Saturday afternoon to start the college football season at Autzen Stadium.  Marcus Mariota ran for 113 yards and completed 12 of 21 passes for 234 yards before sitting in the third quarter when the Ducks had builta 45-3 lead.
Beaver Defense Listed as Missing
In Corvallis… things were rough for the #25 Oregon State Beavers who were stunned by Eastern Washington, 49-46, in their opener.  Eagles Quarterback Vernon Adams overwhelmed the Beaver defense with four passing touchdowns and two rushing.  He completed 23 of 30 passes despite having to leave the game twice… once with cramps, and a second time after taking a hard hit.
Volcanoes Erupt
The Eugene Emeralds had a tough night in Keizer last night… losing to the Volcanoes 15-1.  The final game of the season is tonight at Volcano Stadium.