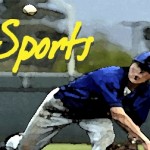 The Three Rivers Sandblasters lost their initial game Friday afternoon in the Sandy, Oregon Super Regional… falling 13-7 to the East County Knights.  That set up a pair of "must win" games Saturday in which the Blasters did just that… downing Redmond 13-nothing, then holding off Salem's Withnell Dodgers 8-6 in 11 innings.
That set up a rematch with the Knights yesterday afternoon… Three Rivers had the lead late, but East County pulled it out in the bottom of the ninth for the 8-7 win to end the season for Three Rivers.
In Northwest League Baseball the Eugene Emeralds opened up a five game homestand against the Vancouver Canadians Friday with a 4-3 loss, then bounced back for two wins… 5-2 Saturday and 9-8 yesterday.  The two teams continue that series tonight at PK Park in Eugene.