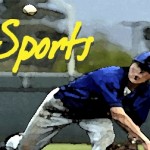 Cubs Pick Siuslaw Righty in 34th.
Siuslaw's Jake Thompson was picked by the Chicago Cubs in the 34th round of the Major League Baseball draft Saturday.  The 4A All-State right-handed pitcher has committed to playing for Oregon State, but according to family members was in contact with Cubs representatives over the weekend.
NCAA Super Regionals
Oregon State started off the NCAA Baseball Super Regionals Saturday with an extra inning 6-2 loss to Kansas State.
Yesterday, Andrew Moore struck out nine and scattered six hits across eight innings of work and Beaver bats exploded for 21 hits as Oregon State routed the Wildcats 12-4 to even the series at one game apiece.   The two teams meet this evening for the final and deciding game of the series at seven pm.
American Legion Results
The Three Rivers Sandblasters opened the 2013 campaign with a15-6 loss to the Withnell Dodgers of Salem at home yesterday.  Withnell put up 15 runs on 15 hits and the shaky Sandblasters committed eight errors in their first outing together.  Ryan Smith, Josh Iabichello and Travis Gallagher each had RBI triples for Three Rivers, but the team left 12 base runners stranded.