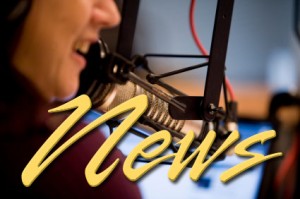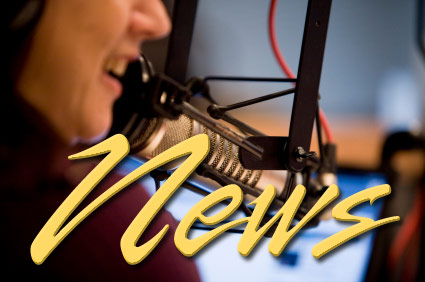 28 May 2013
Get Hooked…
Anyone in Oregon can go fishing for free this Saturday and Sunday…. And they don't need a license.
For kids between the ages of five and 12 that show up at Cleawox Lake between 8:30 and one Saturday, they won't even need any gear.
It's the annual Free Fishing Day celebration at Cleawox Lake hosted by the Florence Salmon and Trout Enhancement Program, the U.S. Forest Service and Oregon State Parks.
STEP members have dozens of rods and reels, plenty of bait and an enthusiasm for fishing that they'll be sharing with youngsters and their families in an effort to "get them hooked".
Becky Goehring says all other rules, such as size restrictions and catch limits remain in effect, but it's a great way to help kids learn how to cast a rod, and reel in a rainbow trout.
The event will also be a chance for anglers to use a new fishing pier installed at the Sand Dunes Day Use Area at Honeyman State Park.  It was funded primarily by the Oregon State Marine Board and is replacing another fishing pier that is slowly being covered by a sand dune.
Child Seat Safety
A properly installed child safety car seat can dramatically reduce the risk of serious injury or death to a child in the event of a car crash.  Yet, say officials with the National SAFEKIDS Organization, nearly three out of four seats are installed or used incorrectly.
Medics with the local SAFEKIDS chapter at Western Lane Ambulance recently teamed up with firefighters to offer a clinic aimed at helping parents, grandparents and guardians make sure seats were safe.  According to Western Lane Paramedic Al Kreitz, 14 seats were inspected during the May 20th event at Siuslaw Middle School.  Nine were replaced at a reduced cost for those in financial need.
Kreitz says a properly installed car seat doesn't move more than an inch side-to-side or front-to-back when you tug at the base.  He urges drivers to make sure all the straps are buckled properly and that they are in the correct positions.
He also says kids need to remain in a safety seat until they're between 65 and 80 pounds… check the label on your particular seat so you understand the guidelines.
Kreitz says if you miss one of the regular car seat clinics offered, you can call Western Lane Ambulance District to schedule a one-on-one appointment.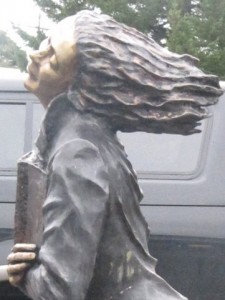 She has a name and it is Joy…
The Mack Holman bronze sculpture installed in front of the Siuslaw Public Library earlier this year was nameless until just recently.  The library asked for suggestions from the public and received 173.
Five different individuals, Dave Braley, Russ Dixon, Terri Guza, Dorland Neale, and Diane Vandehey-Neale, all suggested the name Joy.   Library Director Steve Skidmore says Merriam-Webster's dictionary defines joy as – quote – "the emotion evoked by well-being, success, or good fortune."
Skidmore said it wasn't an easy choice, but the library board agreed on Joy and will formally bestow the name during a dedication in the near future.
The life-size sculpture is near the flag pole at the library entrance where she can be seen clutching a book and leaning into the wind.  She also regularly sports fresh cut flowers placed there by an anonymous person… or persons.