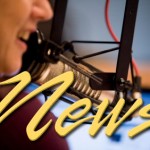 6 May 2013
May 21st Ballots in the Mail
More than 200-thousand ballots were mailed to Lane County voters late last week… many have already been marked and returned.
There is one issue that will appear on all ballots… and that's a five year, $79-million special tax levy that, if approved, will be used to fund operations at the Lane County Jail.
A small amount… just under $8-million of that… will be used for youth services in the justice system.  But the bulk of it will pay for additional staffing at the jail to provide a minimum of 255 local jail beds.
Right now, there are only about 135 jail beds available for local offenders and that creates a revolving door according to many law enforcement officials.  Suspects can be arrested and charged with crimes, but many are released before a trial can occur… and most of them, says Sheriff Tom Turner, don't show up for their court date.
Turner admits that voters may not trust that the money would be used to fund the jail, that's why they put the guarantee in the ballot summary and he continues to stress that the money will not be diverted to some other use.
Siuslaw Schools and Mapleton Fire Seeking Levy Extensions
Voters in Western Lane County will have two other money measures on the ballot.
In Mapleton, the fire district is seeking renewal of an existing five-year local option levy that will cost property owners 70-cents per thousand dollars of assessed valuation.
It's estimated to raise just under $198-thousand over the five year period.
At the Siuslaw School District, officials are dealing with a roughly $700-thousand shortfall in the coming year, despite having one year left on a five-year, $5-million levy.  They're seeking extension of that measure.
One reason for the current shortfall is that they'll only receive about three-fourths of the expected tax revenue from the expiring levy due to a voter-imposed cap on property tax collections for education known as "compression".
Without the cap, the extension of the levy would generate about $4.9-million over five years.
Ballots for the election are due back no later than eight pm Tuesday, May 21st.
Florence City Council
The Florence City Council will meet in private executive session this evening to discuss correspondence with their attorney concerning the transient room tax.  An item on the regular agenda has been set aside for the council to deliberate on the information they receive… should they decide to.
Also on tap for the council this evening, a resolution to spend $90-thousand to re-drill one of the city's water wells… and two small construction projects… a storm drain project on Willow Street and more temporary repairs to Spruce Street at Munsel Creek.
The council meets in open session at seven.
Cooler Weather?
Conditions that led to record setting temperatures in the Florence area over the weekend are on the change.
Many high temps reported around the Florence and Dunes City area Saturday and Sunday were in the lower 90s and upper 80s…
Conditions for the rest of the week are expected to include plenty of clouds and temperatures in the 60s.