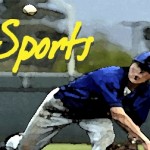 Viking baseball standout Ryan Smith is Coast Radio Sports' Athlete of the week… He was six-for-ten at the plate in three games last week with four extra base hits, two stolen bases and five runs scored.  Smith was also the winning pitcher in a ten-run shutout win over Sutherlin, scattering six strikeouts and three hits over five innings of work.
Honorable Mention:  Viking Track and Field standout Alexandra Dodson.  She was a double event winner at last week's Central Coast Invitational.
On the schedule today…
Siuslaw Baseball is on the air and on the road against the South Umpqua Lancers at five this evening.  The Vikings are tied with North Bend in first place in the Far West League.  Airtime is at 4:45.
Viking Softball will face the Lady Lancers at home this evening.
And college baseball…
The Oregon Ducks rose in the polls to number 11 this week… they're in Bellevue, Washington for a non-conference matchup against Seattle University this evening.