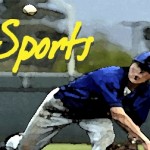 Siuslaw girls finished fourth overall, the boys second, at a Far West League track and field meet yesterday at North Bend.  The Bulldogs swept the top spots in both team standings.
Mack Marbas, Matthew Campbell and Mitchell Butler went one-two-three in the boys' 800.  Marbas with a time of 2:01.53.  Brian Schofield won the 15-hundred in 4:26.49; and Billy Jones pole vaulted 13-feet even to win that event.  In the boys' 4×400 Marbas, Matthew Campbell, Seth Campbell and Hayden Schaffner won with a scorching time of 3:40.16.
For the girls, Alex Dodson bettered her previous best in the triple-jump by nearly a foot, going 32-07 to win that event.  Katy Potter continues her dominance in the middle distance… capturing the 800 meters in a personal best time of 2:25.22.  The girls' 4×400 relay team Potter, Stevie Miller, Katelyn Wells and Mikaela Siegel easily won in 4:31.06.
On the diamond…
Viking Softball was in Winston where they fell to the Douglas Trojans 12-5.  In other Far West games North Bend beat Brookings-Harbor, Sutherlin downed South Umpqua.  The Lady Vikings are tied for fourth with North Bend and South Umpqua… they'll host Brookings-Harbor for two games Friday.
Viking Baseball was delayed a day because of field conditions… they'll host the Douglas Trojans this afternoon at five… the pregame show on KCST is set for 4:45.
In college baseball number ten ranked Oregon got by the Portland Pilots 4-1 yesterday.  Oregon is set to host number 13 ranked UCLA beginning Friday.
Oregon State moved up one notch in the polls to number five.  They're in Portland this afternoon for a non-conference game against the Pilots.