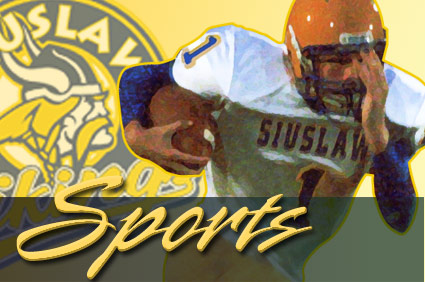 Taking a look at Coast Radio Sports…
The top prep runners in Oregon and Washington will meet tomorrow in Beaverton at the annual Nike Border Clash.
Chris Johnson – "The border clash is a great event.  It's a real showcase.  It's the top 40 boys and girls from Oregon and the top 40 boys and girls from Washington.  It's a real good time so we'll enjoy that."
Siuslaw Cross Country coach Chris Johnson will have a large part of the Oregon contingent… 4A girls individual champion Katy Potter and 4A boys individual champion Matthew Campbell.  Joining Campbell in the boys race will be Mitchell Butler and Mack Marbas… they finished 2nd and 5th at the state meet on the way to pacing the Vikings to the 4A team title.
Beaver Basketball
Rodney Cooper hit a three-pointer with 12.2 seconds remaining and the Crimson Tide edged out the Beavers last night 65-62 in one semi-final game of the 2K Sports Classic at Madison Square Garden.  Alabama took a lead early in the 2nd half and seemed in control; at times leading by 15 points; but Oregon State battled back and tied it late but could not hold on.
The Beavers will face Purdue this afternoon at two pm in the consolation final… airtime on Coast Radio Sports is set for 1:30.
Hardwood Ducks
The Oregon Men are on the hardwood this evening in Eugene where they'll take on Vanderbilt at 8 PM.  Airtime on Coast Radio Sports is at 7:30.
Pac 12 Football
College football is on the field tomorrow… plenty of rain is expected at Autzen Stadium for the 5:00 kickoff between number 14 Stanford and the top ranked Ducks.  The pregame show on KCST is set for 3:30.  Oregon State is expected to get wet tomorrow night at 7:30 when they face Cal at Reser Stadium…. Airtime on KCFM is at 6:30.