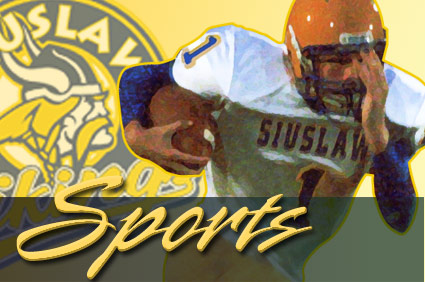 Taking a look at Coast Radio Sports…
Two amazing marks were made by the Siuslaw Cross Country teams yesterday at the Far West District Championship.  The girls won their tenth straight district title and the boys won too… with a perfect score of 15 points.
Chris Johnson – "We just wanted to make it.  We wanted to win the league title but we want to make it to the state meet.  That's where we, that's where we butter our bread I guess."
Coach Chris Johnson downplayed the boys finish in which the first five across the line all wore Viking singlets.  He said the top three were close most of the way.
Chris Johnson – "Mack Marbas and Mitchell Butler and Matt Campbell pretty much ran together and Matt and Mitchell pulled away and it was close.  Matt's got a little bit more speed but Mitchell's real strong."
Hayden Schaffner and Brian Schofield rounded out the top five for the guys.  The Girls had more of a challenge, some of it mental.
Chris Johnson – "I know that, you know, ten in a row, that's a lot of pressure when you were four when the thing started.  And if the football team wins tonight, for all four teams to win league championships it's a lot of pressure on the girls to keep that up so I was real excited about that."
Katy Potter was the individual winner for the girls, followed by Katelyn Wells and Courtney King in 2nd and 3rd.  Lindsey Bottensek was tenth and Mikaela Siegel rounded out the top five for Siuslaw in 12th.
Prep Volleyball
Mapleton fell to Lowell on the Volleyball court last night in three games, forcing another match on Saturday in which they'll try to get into the OSAA 1A playoffs.  They'll face Triangle Lake tomorrow at 11 in Junction City.
Reedsport wrapped up the regular season with a three game win last night over Coquille.  The Braves ended regular season play 6-and-oh with an 18-6 overall record… they're rated number two in the OSAA power rankings headed into the playoffs.
Far West Football
The Far West Football Championship is on the line tonight at Hans Peterson Field as the North Bend Bulldogs come calling on the Siuslaw Vikings.  Both teams are 4-and-oh in league play.  The Vikings are undefeated and the Dogs have one preseason loss.  Kickoff is set for seven… the pregame show on Coast Radio Sports is set for 6:45.
College Football
On the college gridiron tomorrow… Number 2 Oregon will host Colorado at noon… the pregame show on 106.9 FM will be at 10:30.  Oregon State is ranked number seven; they'll be in Seattle against the Huskies at 7:15 tomorrow… the pregame show on KCFM is set for six.