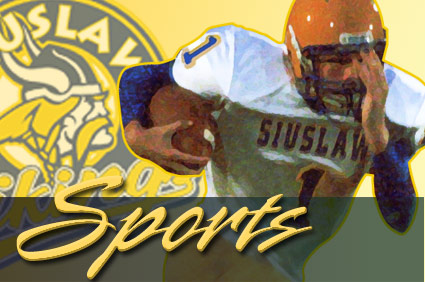 Taking a look at Coast Radio Sports…
Cross Country:
The Far West League Cross Country District Meet is set for this afternoon at Tugman State Park in Lakeside… the Viking boys are the favorites for the team title and the girls are in search of their 11th straight district crown.
Volleyball
The Mapleton Sailors are in Crow this evening for a Mountain West Volleyball league playoff match.  A win would put the Sailors in Saturday's seeding tournament for the state playoffs.  The Reedsport Braves wrap up the regular season on the volleyball court this evening when the Braves take on the Coquille Red Devils.
Prep Football
The AP Prep Football Poll for this week is out…  Siuslaw remains a unanimous number one choice followed once again by Gladstone and La Salle.  The only change in the top ten is former #4 Philomath dropped to number eight after suffering a loss last week.  Baker moves up to number four followed by Cottage Grove, Cascade and North Valley.  North Bend is number nine followed by tenth ranked Scappoose.   The Vikings take on North Bend tomorrow at home in a game that will decide the Far West League Champion.
Class 4A

School
Total
Points
Prv
1. Siuslaw (9)
(7-0)
90
1
2. Gladstone
(7-1)
75
2
3. La Salle Prep
(6-2)
73
3
4. Baker
(6-1)
59
5
5. Cottage Grove
(8-1)
46
6
6. Cascade
(7-1)
41
7
7. North Valley
(7-1)
33
8
8. Philomath
(6-2)
23
4
9. North Bend
(7-1)
22
9
10. Scappoose
(7-1)
20
10
Others receiving votes: 11, Sweet Home 7. 12, Ontario 3. 13, Douglas 2. 14, Klamath 1.