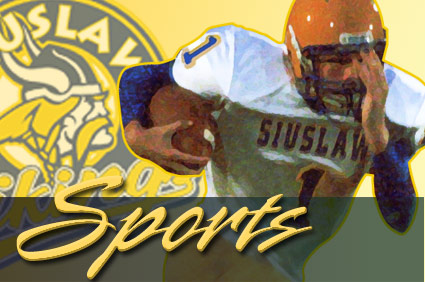 Taking a look at Coast Radio Sports…
The Siuslaw Vikings clinched the Far West League Volleyball title last night with a three game win over the South Umpqua Lancers in Myrtle Creek.  Lona Dengler had nine kills, Adrianna Roberts and Alex Dodson had four each and Lacey DeSantis had three aces and eight perfect serve receive passes in the effort.  As Far West Champions, the Vikings will skip the October 3rd "Play-In" round and will host a playoff game November 3rd.
The Mapleton Sailors will advance to the next round of the Mountain West League Playoffs… they downed Crow at home last night in three games.  Chelsea Simington had 27 assists and five aces… Dani Simington had ten kills in the effort.  The Sailors will travel to Lowell tomorrow.
The Reedsport Braves are back on top in the 2A Volleyball Power Rankings.  The Braves downed Myrtle Point in three close fought games last night at home.  They'll wrap up the regular season at home Thursday against Coquille.