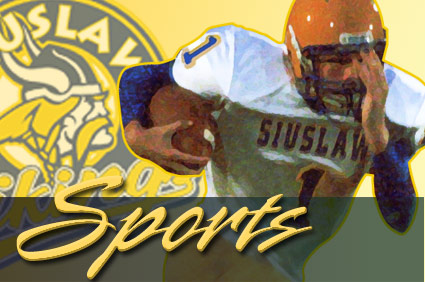 Taking a look at Coast Radio Sports…
On the prep court last night the Reedsport Braves swept Myrtle Point in three games to improve to two-and-oh in conference volleyball play.  All three games were close; the Braves came out on top by five in the first game, then claimed game three 27-25.
In Mapleton the Sailors lost the first game to Lowell, but came back and won three straight to claim a Mountain West volleyball victory at home.
Both the Sailors and the Braves will compete tomorrow at the McKenzie tournament.
Siuslaw Cross Country will be on the course tomorrow at LCC in Eugene for the Northwest Classic…
On the Prep gridiron tonight, the number two ranked Siuslaw Vikings will be in Newport against the Cubs.  Kickoff is at seven; the pregame show on Coast Radio Sports at 6:45.  Mapleton will be in Triangle Lake tonight, while the Reedsport Braves will be in Klamath County to take on Bonanza.
Turning to college football… Mike Riley has called it the "World's longest training camp".  After one cancelled game, a stunning upset over then number 13 Wisconsin, then a scheduled week off, the Oregon State Beavers get to restart their season in earnest tomorrow when they face the UCLA Bruins in Pasadena.  Kickoff is set for 12:30 with the pregame show on KCFM at 11:30.
's being billed as the fastest show on earth… two teams featuring a lot of speed and the spread offense will meet at 7:30 tomorrow night at Autzen Stadium… the pregame here on KCST is set for six.